Recommended for new design
VS1000 Vibration Sensor (Datasheet)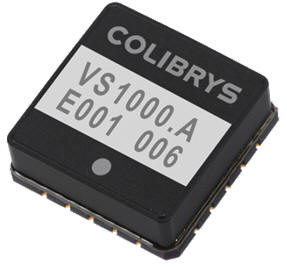 The reference in DC- to medium-frequency vibration sensing, the new VS1000 vibration sensors offer the best combined bias-stability, repetitive high-shocks resistance, linearity and noise performance available on the market. In addition, an embedded self-test feature ensures that the device is still functional at all times.
The new Colibrys VS1000 embeds an optimized MEMS sensor, an improved die attach, a new ASIC with a powerful 200'000 Hz internal clock and a temperature sensor, the combination of which offers an outstanding large and flat frequency response from DC 0 Hz to 2500 Hz ±5% (typ), 7'000 Hz ± 3dB (typ). The new ASIC-optimized architecture offers exceptional bias and scale factor temperature stabilities of ± 0.2 mg/°C (min/max) and 120 ppm/°C (typ). It also features overload and aftershock recovery detection. The non-linearity becomes almost nonexistent with 0.1% of the full scale output (typ), under vibrations.
The vibration sensor is available with a wide range of dynamics from ±2 to ±200g, which will allow it to address various applications with a single electronic interface and package.
All Colibrys MEMS are designed and manufactured in Switzerland following state-of-the-art proprietary industrial processes improved over 25 years. Each sensor is fully tested and qualified to Colibrys standards.